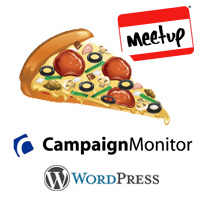 Had a great night tonight sponsored by Campaign Monitor thanks guys! Tonight was an open topic night where it was an open discussion for everyone. I should have collated a list of questions before hand but I didn't get a chance to.
Also sorry for the strange early empty post, I was trying to get this plugin for WordPress working that would automatically pull in the photos from my Fan page of the night from Facebook but it didn't work out the way I wanted it to. It might have worked if it was pulling the images from the managing account but didn't work from a Fan page.
To see all of the images of the night please visit the Meetup.com page for the meetup or see http://www.facebook.com/media/set/?set=a.10150420394870862.409805.152767770861&
Leave your comments and feedback below.
Peter Bui
An all round web specialist with years of experience in web design, development and open source solutions.
Twitter: astroboysoup
Google+: Peter Bui