Loving the weather here in Sydney today. We took a little bit of time out to expand our creative skills and did some work from our secondary work location today. Here is a few from my desk. [caption id="attachment_336" align="aligncenter" width="300" caption="View from the secondary office"]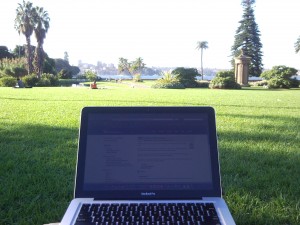 [/caption] A great way to spend the afternoon doing some creative writing, drawing and listening to Paul Boag rant on about web design.
Leave your comments and feedback below.
Peter Bui
An all round web specialist with years of experience in web design, development and open source solutions.
Twitter: astroboysoup
Google+: Peter Bui